https://www.111harleystreet.com/wp-content/uploads/2014/08/face-surgery-london.jpg
https://www.111harleystreet.com/wp-content/uploads/2014/08/body-surgery-london.jpg
https://www.111harleystreet.com/wp-content/uploads/2014/08/non-surgical-london.jpg
https://www.111harleystreet.com/wp-content/uploads/2014/08/by-condition-london.jpg
Dr. Yannis Alexandrides on BBC News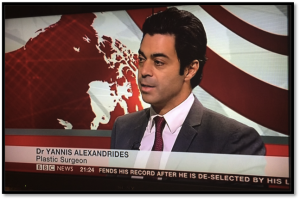 Following the statistics release in the BAAPS Annual Audit, Dr Yannis Alexandrides, MD at 111 Harley Street was invited to appear on BBC News to discuss the increase in cosmetic surgery.
The number of nose jobs, face lifts and breast implant operations all soared by more than 10% last year. The biggest boom was in the popularity of liposuction – up by 41%.
There were 50,122 cosmetic procedures in 2013 – a rise of 17% on the previous year.
Dr Yannis Alexandrides, MD at 111 Harley St Clinic, commented that: "At 111 Harley Street we have seen a dramatic increase over the past 3 years in the number of patients booking surgical procedures. So great is this demand, that I now have a waiting list of over 3 months at my clinic. 2013 was an incredibly busy year on Harley Street with the demand for both surgical and non-surgical treatments reaching a record high.
The top 10 procedures were:
Breast augmentation up 13% to 11,135
Eyelid surgery up 14% to 7,808
Face and neck lifts up 13% to 6,380
Breast reduction up 12.5% to 5,476
Nose jobs up 17% to 4,878
Liposuction up 41% to 4,326
Tummy tucks up 16% to 3,466
Fat transfer operations up 14.5% to 3,302
Brow lifts up 17% to 2,138
Ear corrections up 14% to 1,213
Breast enhancements were the most popular operation in women, while nose jobs were the cosmetic surgery of choice in men.