Age Spots / Brown Spots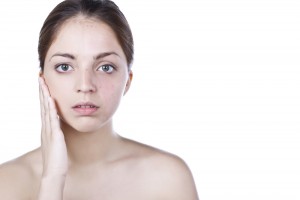 Problem
People tend to notice the appearance of annoying age spots also known as brown spots or liver spots on the backs of their hands, face, neck, legs, back and shoulders. Although not harmful, these spots are unappealing to most people. Age spots can range in size from anything from a small freckle to more than half an inch in size, but they often group together making them appear larger.
Causes
The main culprit in the onslaught of age spots is sun damage as opposed to simply getting older. Sun worshipers are prone to see these develop at any age. They are most prevalent among people with a fairer complexion, although those with darker skin can sometimes suffer from them as well. Tanning lamps and sun beds also don't help and can be a contributing factor.
Age spots occur when the production of melanin is accelerated and UV light tends to exacerbate this. Your genetic makeup also plays a large role in determining whether you will suffer from age spots.
Although prevention is always recommended, those who are very fair will often find age spots are unavoidable no matter how meticulously they apply sunblock. We offer several laser treatments that can help reduce the appearance of age spots.
At 111 Harley St. we use the latest Cynosure laser which is a fantastic option to improve the adverse effects of pigmented skin. The treatment is tailored to the individual patient and there is minimal recovery time after each treatment. A course of treatments is usually recommended in order to see the maximum result and it is advised that extra care is taken in the sun after treatment with a minimum of SPF 30 being worn at all times.
This revolutionary new form of laser treatment is a gentle way to treat many skin conditions, one of which is superficial age spots, sun spots and pigmentation. It is the perfect choice if you have only just started noticing age spots as the Clear + Brilliant treatment doesn't penetrate as deeply as other procedures. The treatment will last around 20 minutes, there will be minimal discomfort and mild redness for a few hours. Several treatments are often required to see the desired results.
Fraxel is a laser treatment that can be used to treat many conditions including age spots. The laser gently fades the age spots and returns the skin to its original colour and texture, resulting in an even and unblemished skin tone. Fraxel is still gentle enough to ensure that the patient does not need to take time off work and is a more convenient and less invasive than other treatments.