An introduction to 111CRYO: Cryotherapy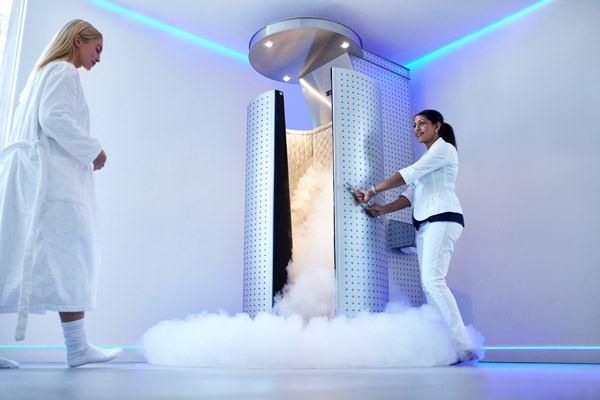 Dr Yannis launches his latest venture that is 111Cryo, a Cryotherapy chamber in Harvey Nichols.
111CRYO is the first company bringing whole body Cryotherapy, powered by electricity within the UK. The concept has been around since the era of the Egyptians, but has recently become popular with a number of celebrities including: Jessica Alba, Daniel Craig and sport stars such as Cristiano Ronaldo. So what is Cryotherapy? Why is it so popular and what does it do?
What is Cryotherapy?
Cryotherapy involves exposing your skin and body to sub-zero temperatures within a chamber. The temperatures drop to below -80°C which triggers a multitude of health benefits. It is recommended that you spend 3 minutes per session in the ice-cold chamber to experience its full host of wellness benefits.
Why is it so popular?
The treatment is said to be extremely invigorating and provides therapeutic and euphoric effects. Primarily, Cryotherapy can be used for: sport conditioning, beauty enhancement, weight management and pain relief.
Beauty benefits
We launched 111CRYO knowing that it had anti-ageing effects as once the blood vessels constrict with the freezing temperatures, it provides a rosy after-glow and stimulates collagen production. Cryotherapy can also be used to treat skin conditions such as psoriasis and eczema. The overall effect is a brighter, firmer and more youthful appearance with visibly reduced pore size.
Sport, weight loss and pain benefits
It's become extremely popular with athletes who use it for its reparative abilities. It can aid muscle repair as well as promote weight loss. The cold reduces inflammatory responses and so you can recover and build muscle much faster.
Mind benefits
Reviewers of 111CRYO have said that the experience provides a sense of clarity. Many people have described a sense of euphoria after the treatment.
111CRYO is available at Harvey Nichols Knightsbridge for £95 per treatment.
Facial treatments are also available for £75 using the Regenerative Collection, inspired by Cryotherapy.