Treating Stretch marks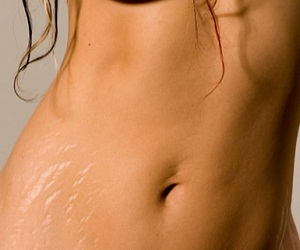 Stretch marks affect both men and women, but can be exacerbated during pregnancy. Therefore, it is common for women to gain a greater amount of marks in comparison to men, particularly if they go through more than one pregnancy. They can be characterised by a change in skin colour which is normally a purple, red or brown tone and small lines or streaks that resemble scars. When touched, the appearance can feel very soft, with indentations and as though the skin in this area has thinned.
How to treat stretch marks
You may notice the first signs that they are about to appear as the affected skin starts to become thinner, flatter and a pinkish tone. You may also find the area a little itchy. They often appear on the waist, stomach, thighs, hips, lower back, buttocks, breasts, and arms, in areas that are likely to accumulate fat.
Although most people do get stretch marks at some point in their lives, certain skin types mean that you might not suffer. They occur due to a loss of collagen and as a result of rapid weight gain so that the middle layer of the dermis tears, allowing the deeper layers of the skin to show through giving the appearance of stretch marks.
To avoid stretch marks, you should aim to keep an eye on your weight and attempt to keep the elasticity levels within the skin elevated through applying collagen promoting creams and lotions. It's unlikely that creams and lotions will be able to fade the marks very effectively and so it is more efficient to aim for prevention.
Laser treatment for stretch marks
If you find the stretch marks unsightly and they are affecting your self-esteem, you may wish to consider Laser treatment. There are a number of variations of laser treatments available to improve the appearance of your stretch marks which will be considered during your consultation.